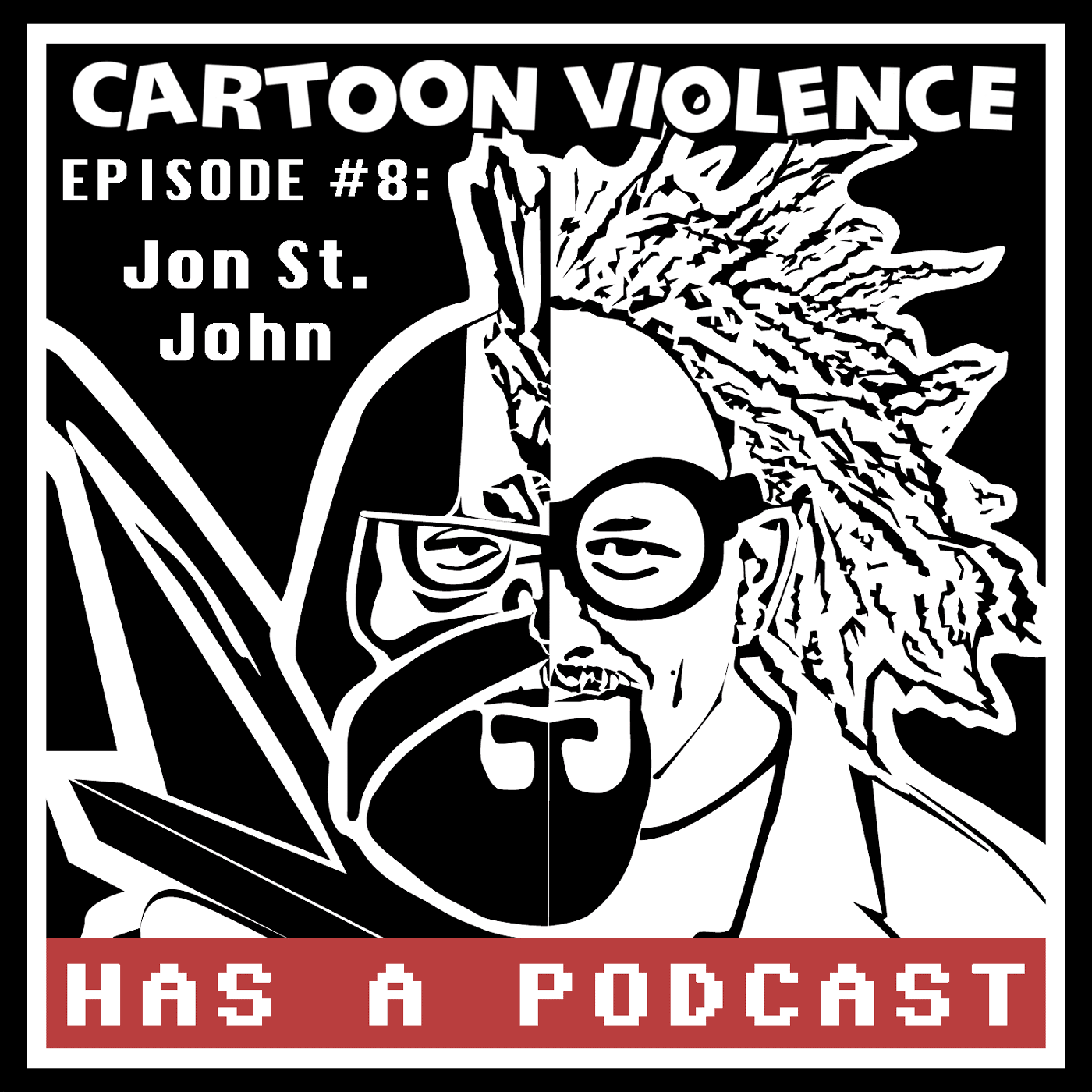 Few voices in this world are as iconic as legendary badass Duke Nukem. Jon St. John, the man behind that voice and many others, is also a musician. He took an hour out of a busy press day to chat with us about Duke, voices, music, and the F word.
Jon was in San Francisco with a 3D Realms crew promoting their new game, Bomshell, where Jon adds the villain, Heskell, to his long list of video game voice credits. ProfRobot was sick with food poisoning, so he was Skyped in to the conversation.
Appearing on the sidelines of this episode is Apogee co-founder Scott Miller, the father of shareware gaming, designer/publisher of such titles as Commander Keen and Wolfenstein 3D.
Top 5 List: Cover Songs
Since Jon used to play in a cover band, we decided to do Top 5 Cover Songs for this month's list. We all agreed that all of our picks were awesome. Check out the Spotify playlist at http://bit.ly/cv5coversongs. What do you think? Tweet us your favorite cover songs using the hashtags #cv5 and #coversongs. Stay tuned next month to see what awesome top 5 list we have in store with our next guest!
Jon St. John's Top 5 Cover Songs
[su_accordion][su_spoiler title="(show/hide)"]
English Beat – Tears of a Clown (Smokey Robinson)
Gomez – It's Getting Better (The Beatles)
Red Hot Chili Peppers – Higher Ground (Stevie Wonder)
Metallica – Grab Bag (Lee Jackson)
Aerosmith – Come Together (The Beatles)
[/su_spoiler][/su_accordion]
Professor Robot's Top 5 Cover Songs
[su_accordion][su_spoiler title="(show/hide)"]
Jimi Hendrix – All Along The Watchtower (Bob Dylan)
Nine Inch Nails – Physical (Adam and the Ants)
Nothing Compares 2 U – Sinead O'Connor (Prince)
The Revolting Cocks – Do Ya Think I'm Sexy (Rod Stewart)
Johnny Cash – Hurt (Nine Inch Nails)
[/su_spoiler][/su_accordion]
Doctor Octave's Top 5 Cover Songs
[su_accordion][su_spoiler title="(show/hide)"]
Nine Inch Nails – Dead Souls (Joy Division)
Cake – I Will Survive (Donna Summer)
Nirvana – Lake of Fire (The Meat Puppets)
They Might Be Giants – Why Does The Sun Shine?
Devo – [I Can't Get No] Satisfaction (The Rolling Stones)
[/su_spoiler][/su_accordion]