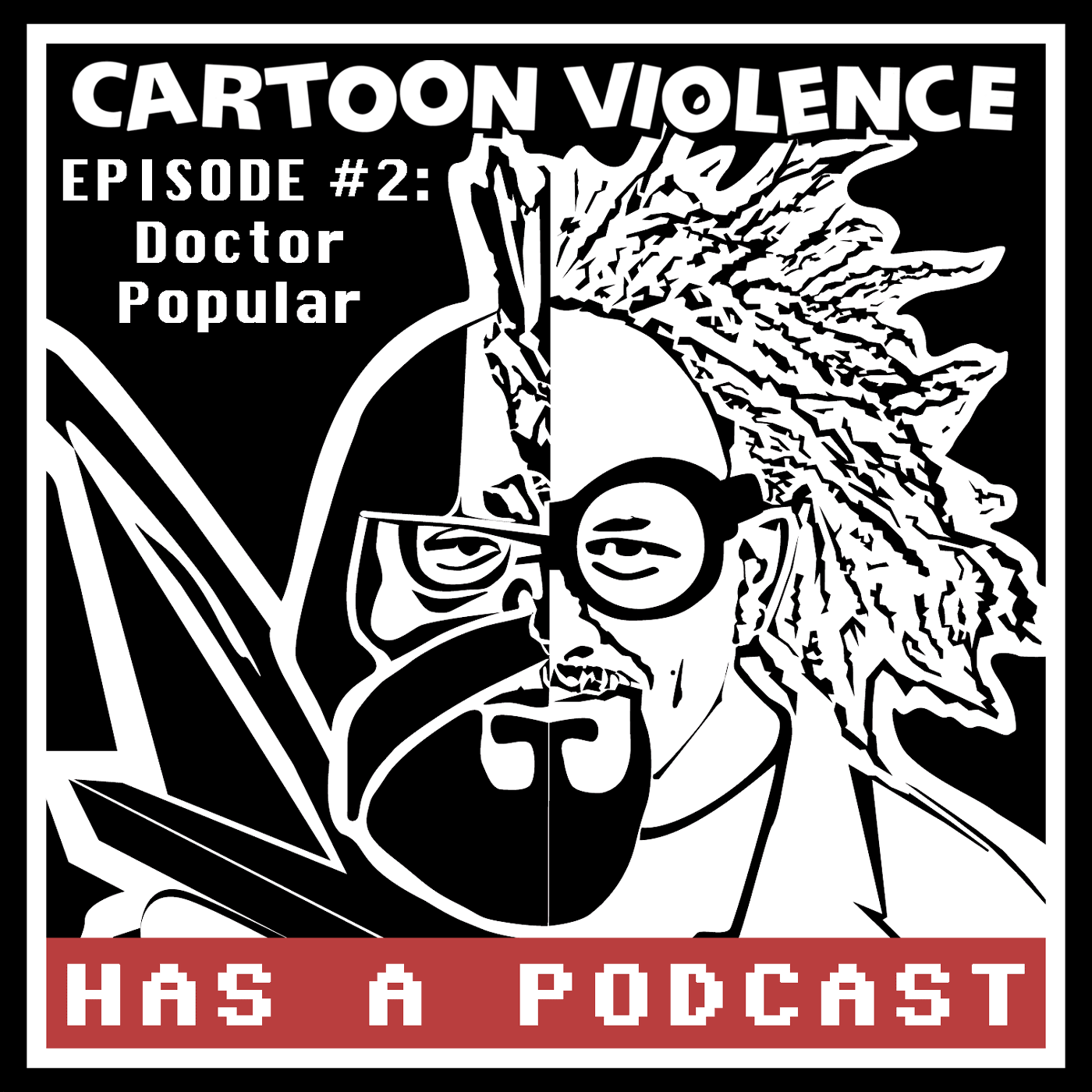 Doctor Popular is our guest for episode #2 of Cartoon Violence Has A Podcast. We recorded this on April 15, right before our "Death, Taxes, and Chiptunes" live show with Doctor Popular at the Stork Club in Oakland, CA. We talked to Doc about his early music, how he got started in chiptune, and his upcoming music video directed by Professor Robot. We also discussed our top 5 favorite doctor songs, and you can hear some of Doctor Popular's latest album, Destroy All Presets, in the background of the episode.
Top 5 Lists: Doctor Songs
This month's topic is Top 5 Songs About Doctors, and the tiebreaker is Guess The Number Christine is Thinking Of (Price Is Right Rules). Tweet your own Top 5 Doctor songs to @CartoonViolins and use the hashtags #cv5 and #doctorsongs to join in the discussion.
Listen to the whole playlist on Spotify: https://open.spotify.com/user/cartoonviolence/playlist/1s0hCYcMzlQ3HmPmiYhdZU
(Songs in Italics are not available on Spotify).
Doctor Popular's Top 5 Doctor Songs
[su_accordion][su_spoiler title="(show/hide)"]
Sonic Youth – Doctor's Orders
The Flaming Lips – Race For The Prize
Lil Wayne – Dr. Carter
Dr. Octagon – Waiting List
Fugazi – Waiting Room
[/su_spoiler][/su_accordion]
Doctor Octave's Top 5 Doctor Songs
[su_accordion][su_spoiler title="(show/hide)"]
Harry Nilsson – Coconut
Alvin and the Chipmunks – Witch Doctor
"Weird Al" Yankovic – Like A Surgeon
DEVO – Theme From Dr. Detroit
They Might Be Giants – Dr. Worm
[/su_spoiler][/su_accordion]
Professor Robot's Top 5 Doctor Songs
[su_accordion][su_spoiler title="(show/hide)"]
Motley Crue: Dr. Feelgood
Robert Palmer – Bad Case Of Loving You
The Young Rascals – Good Lovin'
Dr. Dre – The Chronic
DJ QBert – Inner Space Dental Commander
[/su_spoiler][/su_accordion]