#3 Bobby Joe Ebola and The Children MacNuggits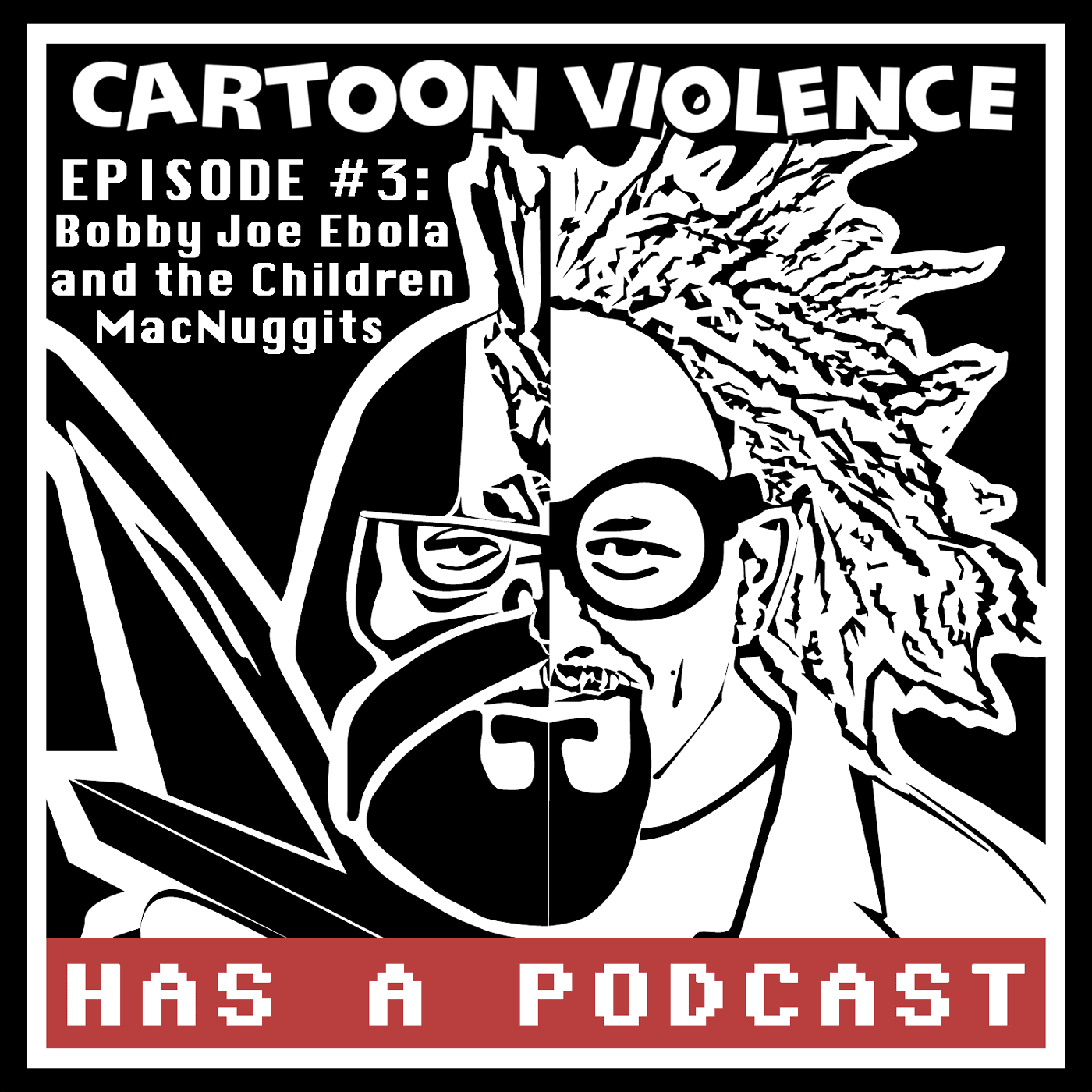 Bobby Joe Ebola and The Children MacNuggits are local DIY music heroes, and the Bay Area's longest running alt-folk comedy geek rock duo which is also sometimes a full band. Responsible in part for the Geekfest series of concerts (which have featured Cartoon Violence), and the formation of the S.P.A.M. Records collective, Corbett and Dan have been an integral part of the Bay Area music scene for 20 years.
For episode 3 we were lucky enough to sit down with them in JingleTown Recording Studios to chat about history of the band, which albums they do and don't remember recording stoned, the Broken Strings music festival they are planning for this fall, and the East Bay Punk documentary they are working on with Green Day and others.
Top 5 Lists: Disease Songs
This month's topic is Top 5 Songs About Diseases, and the tiebreaker is Rock Paper Scissors Dice. Tweet your own Top 5 Diease songs to @CartoonViolins and use the hashtags #cv5 and #diseasesongs to join in the discussion.
Listen to the whole playlist on Spotify: http://bit.ly/cv5diseasesongs
(Songs in Italics are not available on Spotify).
Corbett Redford's Top 5 Disease Songs
[su_accordion][su_spoiler title="(show/hide)"]
Frank Zappa – Why Does It Hurt When I Pee?
NOFX – Gonoherpasyphilaids
Run DMC – You Be Illin'
Peggy Lee – Fever
Bad Religion – Infected
[/su_spoiler][/su_accordion]
Dan Abbott's Top 5 Disease Songs
[su_accordion][su_spoiler title="(show/hide)"]
Tom Lehrer – I Got It From Agnes
Billy and the Boingers – You Stink and I Love You
They Might Be Giants – All Alone
Frank Zappa – Who Needs the Peace Corps?
Nirvana – Mexican Seafood
[/su_spoiler][/su_accordion]
Professor Robot's Top 5 Disease Songs
[su_accordion][su_spoiler title="(show/hide)"]
AC/DC – The Jack
Huey Piano Smith – Rockin Pneumonia and the Boogie Woogie Flu
Weird Al – Mr. Frump in the Iron Lung
Mudhoney – Touch Me I'm Sick
Ted Nugent – Cat Scratch Fever
Honorable mention: Disturbed – Down with the Sickness
[/su_spoiler][/su_accordion]
Doctor Octave's Top 5 Disease Songs
[su_accordion][su_spoiler title="(show/hide)"]
Joe Jackson – Cancer
Hooverphonic – Shake the Disease (Depeche Mode cover)
Tom "T-Bone" Stankus – Existential Blues
Ween – The HIV Song
Ween – Spinal Meningitis (Got Me Down)
Honorable mention: Bobby Joe Ebola and the Children MacNuggits – Take A Piece Of Me (The Leper Song)
[/su_spoiler][/su_accordion]