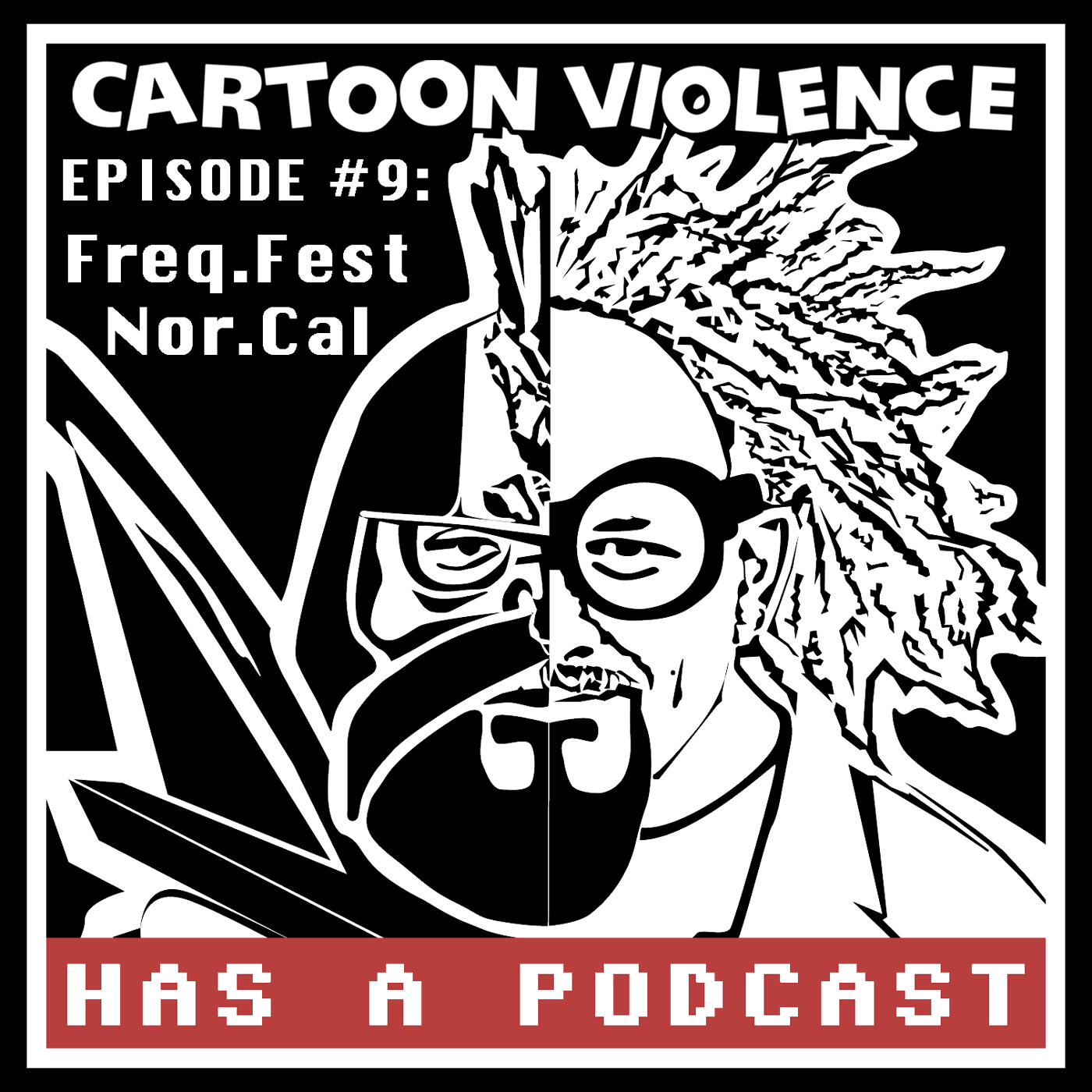 Episode 9 is a collage of recordings made at the SLG Art Boutiki in San Jose, CA on 9/11 and 9/12 for Freq.Fest.Nor.Cal, a 2-day chiptune music festival. Cartoon Violence played the first day of the festival, and we set up our podcast microphones in the green room backstage afterwards. What we intended to happen was have a civilized discussion about chiptune music and live performance with our fellow musicians. What actually happened was that everybody drank a lot and talked about porn and poop and swore like sailors. More than an hour of footage has been edited out, but still there was a lot of stuff discussed over two nights that was at least amusing enough to leave in. Also included throughout the podcast are our live performances of Expectations, Running Into Walls, Heavenly Bodies, Upon A Sea of Truth, and Selfish, the last two featuring Joey Guthrie from Curious Quail [Episode 6] on drums.
If you've ever wondered what it's like to be a fly on the wall backstage at a chiptune show, this is the podcast for you. On the first night, we talked with Petriform, Gabe (Noukon, our visualist), Erin and Alan and Mike and Joey from Curious Quail, Eric from Everything Goes Cold, Kevin Martinez, Jesse Avila, and Alex Wimmer from 8bitLA, Boaconstructor, and Pedro Silva of Slime Girls and Astroskeleton. The second night includes much of that same crew, plus Morgan and Devin from Crashfaster, Devin's wife Krystle, EN Cowell, Leah Oakes (VISMANCIENNE), Geoff (Mr. Smith), Devin and Jackson from Astroskeleton, and finally an interview with Maxo.
If you listen to this whole episode, you'll finally know where everybody's favorite place to poop is, which Yankee Candle would represent each band at Freq.Fest.Nor.Cal, and how everybody pronounces GIF. You'll also hear photos taken, drinks mixed, tattoos shown, and plenty of other things that don't translate to podcast form. You'll also hear what happens when everybody leaves the room to watch Kevin close the show and EN Cowell is left alone with alcohol and a microphone. ENJOY!