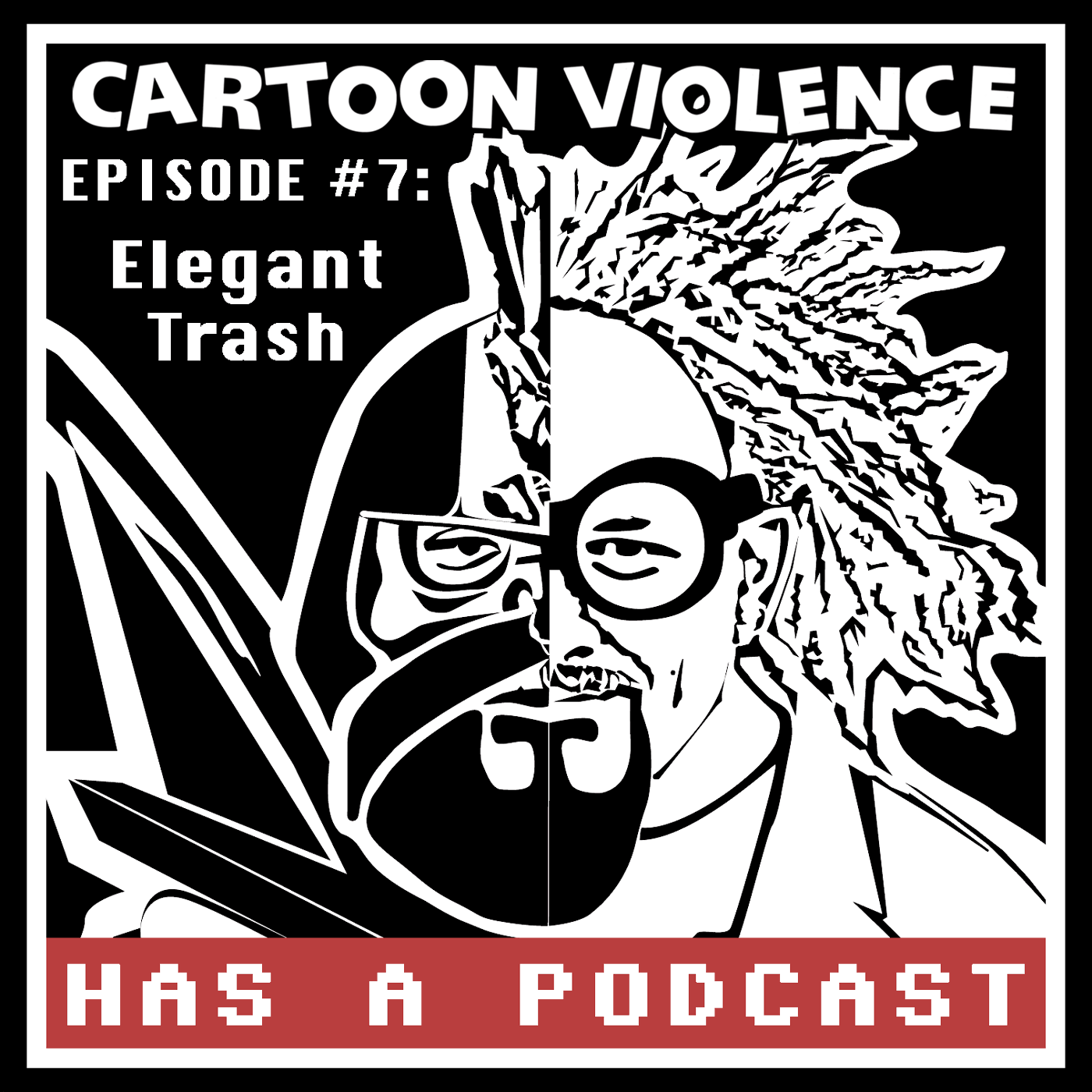 Lee Austin Hoffman is the creative force behind Elegant Trash, a Bay Area band which has had many incarnations since first rising up in Georgia 13 years ago. He also plays drums in the band Glass Atlas, makes his own zine called Bang Magazine, and puts on his own shows. Lee is a prolific machine who doesn't let anything stop him from making music, and has released seven albums since moving to California. We sat down with Lee in his kitchen to talk about his writing process, his attitude, his influences, and his plans for rocking into the future. This episode also features our first live performances, as Lee played two songs for us on an acoustic guitar at the end of the interview.
On Saturday, October 10th, we will be playing a show with Lee's band Elegant Trash at the Showdown in San Francisco. You can also catch Elegant Trash at The Range in Slab City on November 21st. As always, our tour dates are available on http://facebook.com/TheRealCartoonViolence/events or on our website http://CartoonViolenceMusic.com .
Top 5 List: Trashy Songs
This month's Top 5 List is Trashy Songs. And since we didn't get any collisions on Episode 6 with Curious Quail, we're recycling our bird calls for tiebreakers. Spotify isn't nearly trashy enough to have all of these songs, so this month we've supplemented our normal Spotify playlist at http://bit.ly/cv5trashysongs with a YouTube playlist at http://bit.ly/cv5trashyvideos. Choose your poison.
Share your own favorites by tweeting @CartoonViolins with the hashtags #cv5 and #trashysongs

Lee Austin Hoffman's Top 5 Trashy Songs
[su_accordion][su_spoiler title="(show/hide)"]
My Life With The Thrill Kill Kult – Sex On Wheelz
Snoop Doggy Dogg – Ain't No Fun
Prince – Darling Nikki
Frank Zappa – Crew Slut ("Into The Bus")
Elegant Trash – The Dirty Panda Song
[/su_spoiler][/su_accordion]
Doctor Octave's Top 5 Trashy Songs
[su_accordion][su_spoiler title="(show/hide)"]
Blonde Redhead – I'm Taking Out My Eurotrash
The Left Rights – Poo Out My Ass
Bobby Joe Ebola and the Children MacNuggits – Bungie Birth
Ween – Piss Up A Rope
[/su_spoiler][/su_accordion]
Professor Robot's Top 5 Trashy Songs
[su_accordion][su_spoiler title="(show/hide)"]
The All-Knowing Trash Heap (from Fraggle Rock) – I've Seen Troubles
Michael Jackson – Dirty Diana
Oscar The Grouch – I Love Trash
Old Dirty Bastard – Shimmy Shimmy Ya ("I Like It Raw")
Pulp – Common People
[/su_spoiler][/su_accordion]