#13 Failed Bands and Breakups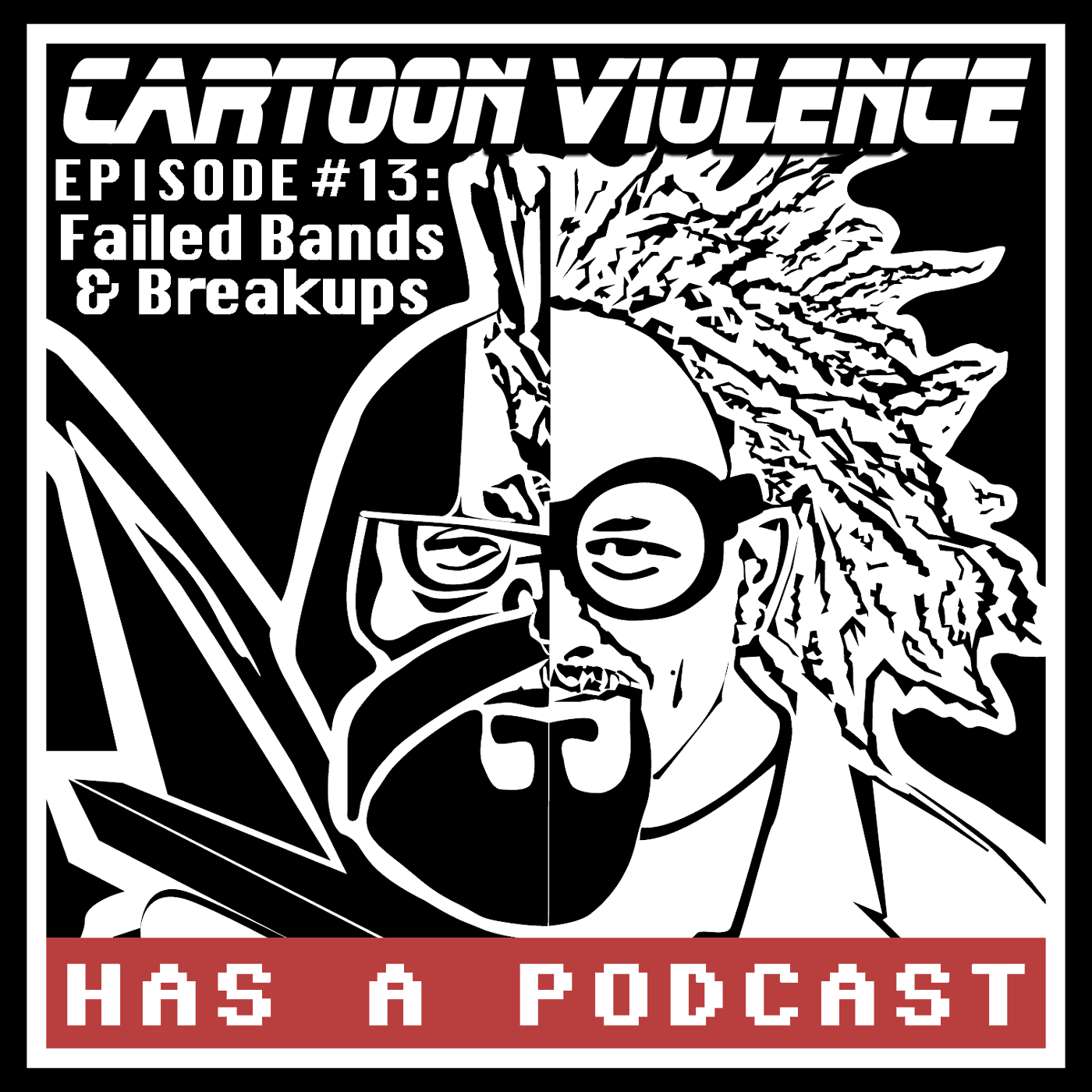 For our one year podcast anniversary, we invited past guests Adam T Davis (Gnarboots, Episode 4), Pink Thunder (Robo Beat 'Em Up, Episode 5), and Joey Guthrie (Curious Quail, Episode 6) to talk about past bands and breakups. We learned some of the early stories of how past musical projects came and went, and how we got to where we are now.
At the end of the episode, hear a few songs from our past dug up from the vaults. First, an early Gnarboots incarnation, "Fashion Police" by The Fashion Police. Second, "In The Flow" from the King Penguin Quartet, featuring Professor Robot on bass. Third, hear "Ricci" by The Spanky Hockenpuss band with Doctor Octave on vocals and drums. Finally, endure "Human Harvest" by Spuck, a necessary step on the road to Robo Beat 'Em Up.
Top 5 List: Breakup Songs
For our top 5 list this month, we discussed our favorite breakup songs. Listen to our playlist on YouTube and Spotify and tweet us your own top 5 breakup songs using the hashtags #cv5 and #breakupsongs!

Pink Thunder's Top 5 Breakup Songs
[su_accordion][su_spoiler title="(show/hide)"]
Type O Negative – Unsuccessfully Coping With The Natural Beauty of Infidelity
CeeLo Green – Fuck You
Tom Petty and the Heartbreakers – A Woman In Love (It's Not Me)
Nine Inch Nails – Something I Can Never Have
The Fiery Hellhounds – You Broke My Heart, I Broke Your Face
[/su_spoiler][/su_accordion]
Joey Guthrie's Top 5 Breakup Songs
[su_accordion][su_spoiler title="(show/hide)"]
Lisa Loeb – Do You Sleep?
The Counting Crows – Round Here
The Gin Blossoms – Til I Hear It From You
Pearl Jam – Black
Soundgarden – Mailman
[/su_spoiler][/su_accordion]
Adam Davis' Top 5 Breakup Songs
[su_accordion][su_spoiler title="(show/hide)"]
Lisa Loeb – Stay
Bill Withers – Ain't No Sunshine When She's Gone
The Locust – Gluing Carpet To Your Genitals Does Not Make You A Cantaloupe
Technotronic – Pump Up The Jam
Riskay featuring Aviance and Real – Smell Yo' Dick
[/su_spoiler][/su_accordion]
Doctor Octave's Top 5 Breakup Songs
[su_accordion][su_spoiler title="(show/hide)"]
Roy Orbison – Crying
Green Day – FOD
Joe Jackson – Breaking Us In Two
The Righteous Brothers – You've Lost That Loving Feeling
Weird Al Yankovic – One More Minute
[/su_spoiler][/su_accordion]
Professor Robot's Top 5 Breakup Songs
[su_accordion][su_spoiler title="(show/hide)"]
LCD Soundsystem – Dance Yrself Clean
The Violent Femmes – Breakin' Up
Elton John – I'm Still Standing
Cake – I Will Survive
The Deadly Snakes – I Want To Die
[/su_spoiler][/su_accordion]